For any Business or Organization, the most important aspect is following a set of activities performed by relevant roles to achieve common business goal. These activities can be categorized into Business Process. Automation of these processes would help in managing business effectively and timely. This need can be achieved through one of the prominent feature of Alfresco called as Workflow.
In this article you will learn about various workflow capabilities including start workflow, view task details , view workflow details , reassign task , save and close and filtering of task.
When you logged in, the first thing that is displayed is User dashboard. The dashboard is user configurable that contains many dashlet. If you don't find
My Tasks
Dashlet, you can add dashlet using
Customize Dashboard
.In the below screen you may notice the new task listed in the
My Tasks
window. You can filter tasks on the basis of high priority, due tasks, overdue tasks, pooled tasks, assigned tasks. Additionally you can start workflow from this dashlet, can view details of task and can edit task.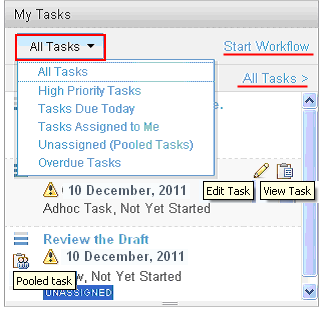 You can also click on
All Tasks
to look in a more detailed page. In the below screen you may notice additional filters for Due date like filter on the basis of today, tomorrow, Next 7 Days, No date. You can also view workflow detail for a particular task.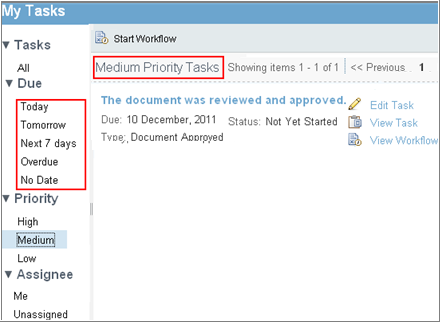 When you click on workflow details link, you can get information about the all tasks associated with that instance, you will know history of tasks, who all are reviewers for this document, what is the approval percentage, previous review comments, and most recently completed task. Additionally, you can edit task from here as well.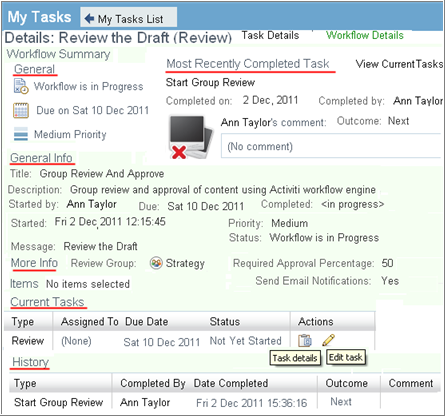 For various business reasons you want to reassign your task to another user.On click of reassign button , you will have option to search user and   the selected task moves from your task list to the task list of selected user
At times it becomes important to save the changes as you may not have time or with any other reason you are not able to  complete information in one go. In this case you can save the changes of the workflow by clicking the
Save And Close
button. Next time when you open task details page you will find your changes. Suppose you don't want to work on task at present, you can cancel the task by clicking the
Cancel
button. These two buttons are available in Task detail page.
For a specific document in your space, you can find out the workflow details by clicking the document itself. You will be able to view Details page of the document.
The document's details page list down metadata, actions, version history, permissions and workflow details as shown below. If you click on those links, you will find workflow details associated with this document for your reference.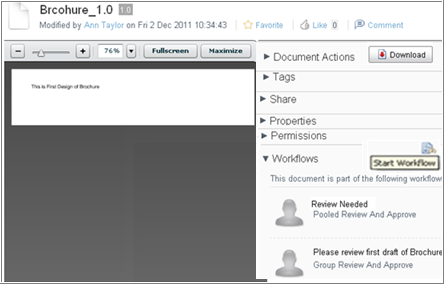 In this article, you have learned how to:   
How to start workflow and view task details
View Workflow Detail Page
Reassign Task
View workflow information from Document Detail Page
Use of Save and Close , Cancel button.