Organizations can be found managing hundreds to millions of contracts on a transactional basis. The responsibility is shared among managers, professionals, attorneys, and administrative staff. With growing impetus to regulatory compliance, the complexities of written contracts increase significantly. More elements than ever are involved in the review process, and with the growing volume the entire process is more complicated and leads to wasted time and dependence on more resources.
Contract Management Solution is an automated contract management application that targets to track, monitor and process contract agreements throughout its lifecycle starting from drafting to activation and monitoring. It starts from contract creation and then sent for negotiation, approval and execution phase.
CIGNEX Datamatics' Contract Management Solution (CMS) has a highly sophisticated event notification feature that provides notification alerts on various events like expiration, termination, amendment and renewal. It provides a highly secure web based contract management solution that adds useful summaries and it facilitates the centralized repository to manage the complete contract lifecycle from Creation to Negotiation to Execution, to Administration and thorough Analysis.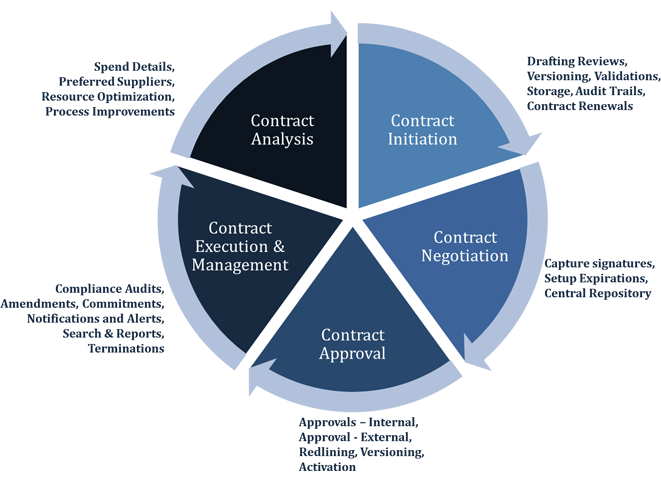 Here are a few examples of our solutions involving development & customization
A customized Contract Management & Procurement system for a leading bank in Singapore helped them to improve operational efficiency by integrating tax & legal structures of more than 5 Asian Countries with support for 3 languages and reduced total cost of ownership by 70% over proprietary technology based solutions.We migrated over 5000 legacy contracts using an automated tool
A leading auto-parts company, with more than 35,000 employees across 2,500 stores in North America was facing challenges like poor vendor management; re-work of contracts, excessive paperwork, lack of physical security and time consuming contract management process. Our Contract Management Solution helped them in integration with supplier network for various approved product lines, management of various policies and agreements with Alfresco's Out of Box functionality and creating transparent workflows with continuous tracking, identifying bottlenecks and accelerating business decisions. We migrated over 100k legacy contracts for vendor management
Key Objectives
Minimize corporate and legal risk caused by inconsistent or unapproved contract language
Effective and on-time contract creation process
Improve contract terms and prices during renewals and renegotiations
Ensure contract compliance to realize savings
Key Features
Draft contracts from pre-approved templates, reducing risk and increasing performance
Import third party language for drafting contracts and use them as the contracting document
Best Practices workflows on filing and drafting contracts ensures compliance with review and approval policies, track negotiation timings, frequently negotiated terms
Drip alerts for expirations provide early, advanced warning on upcoming expirations and other commitments
Custom Search and Reporting
Identify performing Vendors and Suppliers
Integrate with Master Data, Payment and Delivery Systems
Migration tool to quickly migrate and import all your existing executed legacy agreements
Key Benefits
Cut contract cycle time, greater visibility and boost productivity


Centralized repository and an enterprise-wide, structured process to manage contract creation and execution
Automated workflow for contract review and approvals
Recognize revenue quicker
Security - Group and User access management with multi-level access
Effectively manage contract milestones via automated alerts
Powerful search
Cloud ready solution
Mobile and tablet access to Contract Management Solution

Ensure Compliance


Avoiding penalties and sanctions by ensuring operational and regulatory compliance
Obligations management capabilities and key performance indicators to improve contract compliance and performance
Read less...