JBoss is the Global Leader in Open Source Enterprise Middleware Solution for application and service hosting, business rules management, content aggregation, data federation and service integration. The wide-ranging JBoss portfolio includes integrated platforms and plug-and-play frameworks which offer companies a lot of flexibility and more options in respect of the desired technology. The JBoss Middleware portfolio incorporates the JBoss EAP (Enterprise Application Platform), JBoss EDSP (Enterprise Data Services Platform), JBoss BRMS (Business Rules Management System), JBoss Portal Platform, JBoss SOA Platform as well as the frameworks Hibernate, Seam and the JBoss Web Framework Kit.
JBoss Enterprise Middleware System is an extensible and scalable suite of products for creating and deploying e-business applications
Customers across varied verticals use Red Hat JBoss Middleware services
24x7 production and development support
Awarded in Platform and Middleware category and in Dev Tools Category by InfoWorld's Best of Open Source (BOSSIE) Awards in 2008
CIGNEX Datamatics Offerings: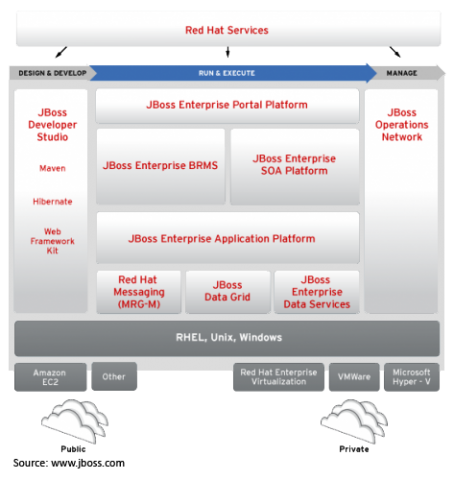 JBoss Enterprise BRMS (Business Rules Management System)
JBoss BRMS  enables effective management, storage, creation, modification, and deployment of business rules and business processes  by integrating business rules management, business process management (BPM) and complex event processing (CEP).JBoss BRMS provides a bridge for the business and technology teams to collaborate and thereby aid them in decision-making
JBoss EDSP (Enterprise Data Services Platform)
JBoss EDSP allows organizations to effortlessly leverage information distributed across disparate locations. A powerful set of tools and runtime components allow applications and business processes to easily access data from various sources in real time. This includes tools to create data views accessible through standard protocols, a repository to store metadata and runtime environment with excellent performance, data integrity and security
JBoss EAP (Enterprise Application Platform)
A leading Open Source platform that allows building, deploying and hosting enterprise Java applications and services.  Based on Open Standards, its cloud ready architecture allows the server to dynamically adapt to the application requirements. JBoss EAP 6 includes more features to increase development productivity by reducing operational costs and time to market for new applications
Additional Offerings
Liferay + JBoss Middleware Integration
A collaborative solution approach by combining both the solutions with the existing architecture to improve organizational effectiveness by providing comprehensive content management, enterprise search and flexibility across various domains
Alfresco + JBoss Integration
A widely used Enterprise Content Management system for Microsoft & Unix/Linux operating systems combining with JBoss results into a solution for organizations requiring a high degree of modularity and scalable performance.  A scalable and an efficient solution approach for companies working on existing architecture planning to expand their horizon while reducing their operational cost.
JBoss EWP (Enterprise Web Platform)
JBoss EWP is a lightweight platform to build light and sharp Java applications. Java EWP supports REST and other web services enabling smooth integration with other applications
JBoss EWS (Enterprise Web Server)
JBoss EWS provides a single solution to build large scale websites to simple web applications by combining crucial Open Source technologies. Developed by integrating Apache Tomcat and Apache web server and JBoss middleware capabilities, JBoss EWS is the go to solution for large scale web applications.
Red Hat Enterprise MRG Messaging: An open, flexible platform that combines industry-standard Advanced Message Query Protocol (AMQP) with Red Hat Linux platform to provide enterprise class messaging environment with minimal investment. Features include cross platform messaging support, flexible integration semantics, secure messaging and delivery and mobile integration.
CIGNEX Datamatics Expertise
JBoss consulting, adoption, migration and implementation
JBoss solutions in cloud
JBoss 24*7 Support and Maintenance
JBoss Training
CIGNEX Datamatics Advantage
Strategic partner for Red Hat JBoss Middleware Services
Experience of implementing over 400 Open Source enterprise solutions
Experience of migrating to JBoss from proprietary solutions such as Broadvision, WebLogic
Read less...