An organization grows by the right decision as they involve interdependencies on many business operations. Complicating this challenge is the accelerating pace of business policy change. Consider the rapid shifts in mortgage lending or credit card policies in the wake of the recent financial crisis. Even a simple change – altering the way credit card interest rates are determined – can require time-consuming and costly implementation that delays the organization's ability to respond quickly to market shifts. In addition, an increasingly stringent regulatory environment places further stress on development and maintenance.
The bottom line is - Growing complexity in the actions of applications must be answered by more powerful innovative approaches that simplifies the development process and the create transparency in business to compete and scale.
Multiple technologies have emerged to address these challenges by Business Rule Management System (BRMS). A BRMS can simplify and streamline application development and maintenance while rendering the execution of business activity much more transparent and auditable. Business rules systems are quite complex to implement with a narrow set of applications leading to more complexity. Red Hat is changing all these by its JBoss Enterprise BRMS platform, which significantly expands the number of organizations that can take advantage of advanced business rules technology.
JBoss Enterprise BRMS is a comprehensive business process automation platform that combines business rules management, business process management (BPM), and complex event processing (CEP) into a single, open source distribution. These core functions enable business experts and application developers in organizations of any size to model, automate, measure, and improve their critical business processes and policies.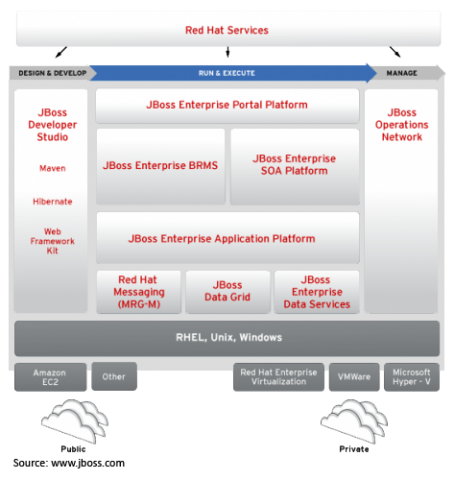 JBoss Enterprise BRMS benefits:
Provides greater business agility
Reduces business process execution errors
Creates better customer experiences leading to higher customer satisfaction
Accelerates business execution and improves business performance
Increases return on existing IT investments
Offers simple, open, affordable, business rules management in application, SOA, and business process  management (BPM) deployments
To explore more about the JBoss Enterprise BRMS and other resources to support your application development and integration goals.