Lead generation is the way of attracting and converting the prospects into a customer who has shown up the interest in the products or services of a company. Typical examples in perspective of any company wherein interest indication actions are defined on filling up Contact Us/Quote form, Chatting with a company representative, Requesting a Call or Schedule a Meeting with Experts, Download Collateral etc.
Approach to get leads for enterprises is changed due to Internet and purchasing behavior of customers. Before, businesses pushed their products and services to customers through ads which mean businesses were looking for customers. As compared to this, now businesses using pull marketing approach that focuses on attracting customers who are already looking for products and services offered by the company.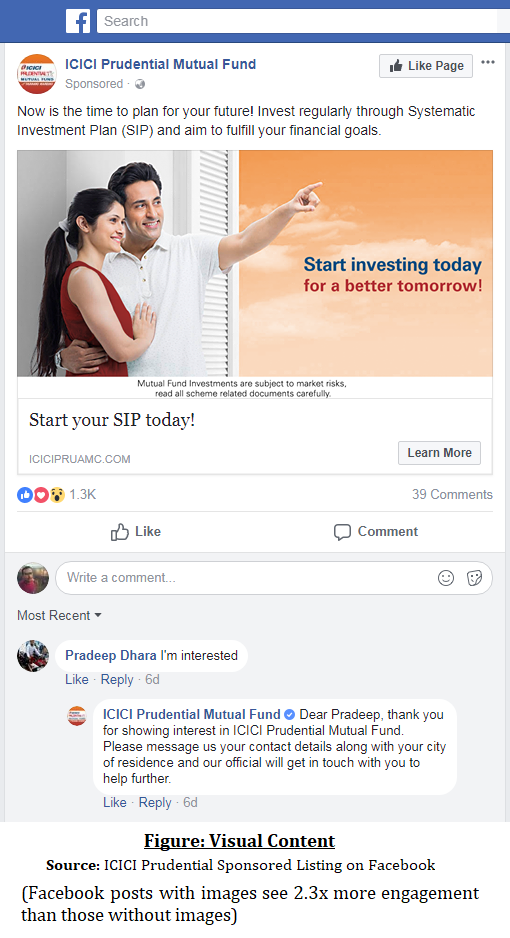 A step forward to the current scenario or deferring to traditional marketing, The Digital & Social Media has brought lots of changes and the role of Marketing in the Lead generation has changed. How? The given diagram on the left is showcased how the page created on Facebook displaying the advertisement of mutual fund has generated the interest of a prospect and helped a provider to reach out the targeted audience. Well, it is just a sponsored listing like a paid campaign in Google Adwords to show banners and text ads. Using the similar approach to other social media platform – Linkedin, Twitter will not only attract the prospect but will also build the brand awareness and drive website traffic.
The key is social signals in the form of shares, likes, comments, # Followers, Reviews which make that post or page or ad etc. available via a friend reference in the buyer's dashboard or timeline to make a right choice to purchase the best product/service.
There are also some changes and improvements in Digital Marketing Techniques. Visual Content, Machine Learning, Big Data, Personalized Customer Experience & the use of Artificial Intelligence (AI) & Chatbots and Micro Moments are some key elements that should be incorporated into the online marketing strategy of any businesses. The content of the website should be created as per customer's interests and another way to ensure a personalized experience for each customer is to create a dynamic page/website with the use of an intelligent automation tool/artificial intelligence (AI) technologies that deliver customer-centric content. Machine Learning & Big Data is also enabling businesses to make better predictions about customer behavior which allows creating more customized content. Customers also anticipate business to reply immediately to their requirements by giving them with reliable information, regardless of the time and location. These instances are referred to as "Micro-Moments". 24/7 availability of businesses is mandatory to response customer queries and provide a solution to their problems & that's why the use of Chatbots is now an essential tool in modern inbound marketing campaigns.
All of above techniques can be of great help to optimize content, PPC campaigns, SEO, and link building. In order to fully adapt and accept new marketing technologies to get leads, Businesses websites should be responsive and optimized for search.