Liferay's last stable release Version 6.2 EE has been in the market for over a year enabling development of complex applications thanks to the rich features such as responsive design, mobile SDK and apps, enhanced WCM, administrative hierarchies and more. Working on the newer version has significantly reduced effort and time. Hence, if you platform is built on versions 5.X, 6.0 or 6.1, it is probably a right time to relook and consider an upgrade strategy. There is a lot of gain by moving to Liferay 6.2EE. Below I would like to highlight couple of examples of cases we handled last year.
Leading Networking Company – Stable, Resilient and Modular Collaborative Portal
We upgraded client's Learning Management Portal to Liferay 6.2 (from 6.1) with over 1.8 million users, and 1000+ roles and communities. The fully responsive platform was integrated with Canvas LMS and improved overall web experience – performance, twitter bootstrap, multi-lingual and more. The upgrade activity alone solved client's major pain points and improved efficiency by reducing deployment efforts 97% (from 96 hours to 3 hours) through automation workflow.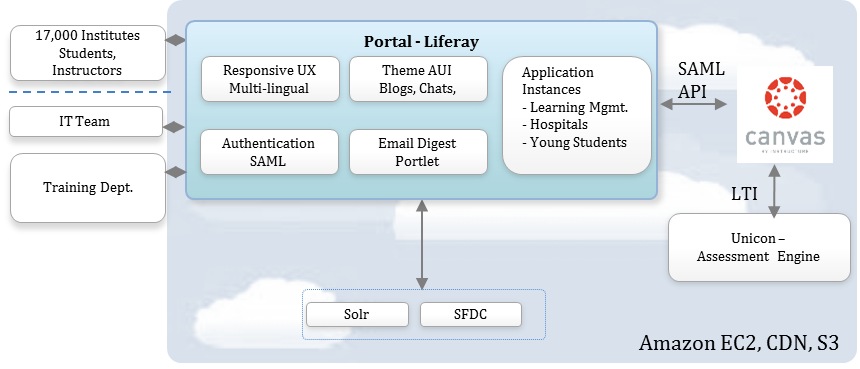 US based University - Increasing Accessibility and Ease of Management
We upgraded Student's Intranet to Liferay 6.2 (from 6.1) making it easier to manage the platform. We took advantage of the WCM and the administrative capabilities of Liferay 6.2. We also integrated an event management module and calendar to maintain attendance. The automated workflow allowed client manage an Audit Trial. The site was fully responsive and increased response time, while the content management features improved the speed and efficiency.
Six Stages of Upgrading Liferay
What the above two cases point out is that the advantage of an Enterprise Level Platform Upgrade is not only the acquisition of new feature set, but also the ability to tune performance, simplifying modules, improving usability and more. At CIGNEX, we have devised the six stages of upgrading Liferay that helps enterprise with an incremental, organic approach to revitalizing their solution. Checkout our webinar presentation titled "Best Practices for upgrading to Liferay 6.1 EE" for more information on the methodology we follow.

Get a Personal Coach Assigned
While the approach covers broader questions, it is always a good idea to begin at a high level by drafting a roadmap for your upgrade plan. To help you with the process, we have created a 2-day assessment with our Community of Liferay Upgrade Experts. On signing up, we will assign you a Personal Coach who would evaluate your portal application and offers a consultation report.