An enhanced e-Commerce is very much the need of an hour to keep pace with the exponentially growing online retail industry. e-Marketers forecast online retail to be a $435 billion industry by 2017 and till 2018 as per Forester research, web will account for 11% of total U.S. retail sales. There is a dying need among brands to be present in all aspect of customer interaction with a common platform that provides ease and resemblance. With Google glasses and smart watches yet to take off in a big way, these wearable devices will become the next communicating medium and hence any applications developed has to device optimized and not just device friendly. Getting into data analytics isn't even a discussion anymore and so many have evolved to call e-commerce just commerce. Every brand is now trying hard to adopt the Omni-channel strategy to give that uniform buying experience across all platforms.
Today's Fashion Retail Industry
Shopping has its own definition and the way www.amazon.com and many more have emerged the traditional way of shopping has changed. In today's context the personalization of buying is the key. The world has moved to self-service with assistance, right from recommending options to remembering the last viewed merchandise. Website like www.lenskart.com allows its consumers upload their photo and choose which spectacles will suit them the most. In order to reach the masses you have to be one for the masses. The key is ease in navigation, properly integrated with backend applications to support supply chain, logistics and payment gateways. The user management has to be bang on covering external buyers, cookies and internal user giving various promotions and ease in maintaining the architecture. Let us understand the journey of a multi-retail outlet adopting the Omni-channel strategy to cater to the growing business demands and establishing their own share in the rising e- commerce market.
Business Needs
The client is a South-Asian retail giant having 12 stores and over 650 centres selling merchandise only through brick & mortar. The client intended to build an online store which is compatible on PC, tablets and mobiles properly integrated with all current enterprise systems; having user management capabilities and ability to pull-out custom reports with real time statistics. No online retail is fruitful unless it provides a good user interface with options to cross-sell and up-sell and all of these requisites come with a big condition of a being budget friendly. Post evaluating the need of the client, there were 2 options either going with proprietary applications or open source. But studying the requirement deeply we proposed them for a Magento based e-commerce site to cater the present requirement and add up value in par with major global e-commerce giants.
Magento - The Way Forward
Under all these simplicity lies a proper structured IT infrastructure model to give all the bone it needs to withstand against the odds. Here is where Magento pictures the prefect open source technology having rich features with excellent flexibility to support all fundamental needs to go online. Some sizable advantages are simplicity of the website, Search Engine Optimization (SEO), easy maintenance, user friendly, supports mobile commerce, secure payments, reporting and analytics.
Key Highlighting Features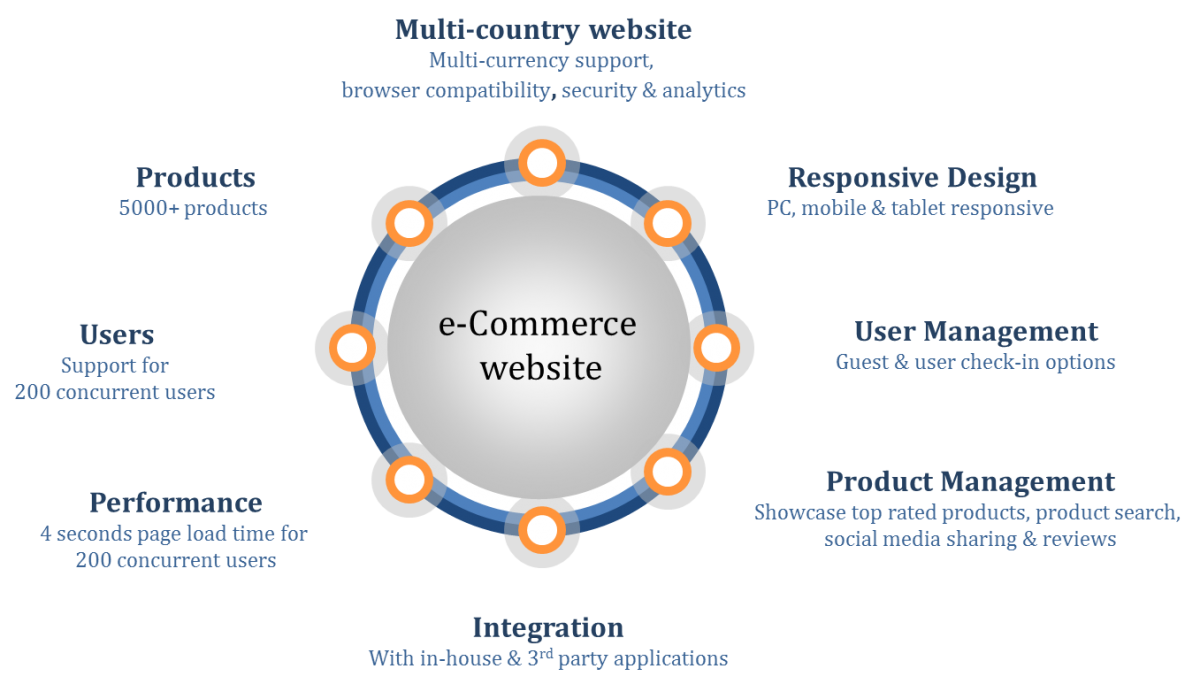 Benefits Realized
Online presence with global reach
E-commerce store with integrated marketing
Enhanced brand image with shooting sales figures
Rich user experience for both visitors and administrators
This article shows how a fashion chain tasted the global business with the help of a Magento based e-commerce application