The B2B ecommerce landscape is at a very interesting phase currently. With a total of $500 billion sales estimated from this segment, business owners are increasingly recognizing the critical importance of this piece of revenue generating pie. Growing at a rate of 19% every year, the expected market share of B2B ecommerce is expected to be $6.7 trillion by 2020. This certainly shows that the time is ripe for B2B business owners to climb the eCommerce bandwagon.
What B2B buyers want?
However the potential reward is only viable after B2B eCommerce providers invest in current trends, user choices and shifts in technological avenues. Some of the key factors that can make this a rewarding proposition would be –
User Experience – Close on the heels of the massive success of B2C websites/portals, B2B buying decision makers too are demanding a similar interactive and rich eCommerce experience.
B2B Engagement – B2B customer satisfaction is a whole different ballgame than B2C eCommerce. A provider needs to invest in a satisfying B2B customer experience by upgrading legacy technology/infrastructure to more robust, scalable and high performance solutions.
Mobile Ready – When 52% of B2B customers use mobile for carrying out business research, it will be only wise to ensure that the site/portal is mobile friendly.
Omni-channel – The best bet when investing in B2B ecommerce is to prefer Omni-channel B2B customers rather than 100% online or 100% offline customers.
Go direct – Selling direct to buyers without middlemen is the preferred way to transact with B2B customers as proven by a research study.
How to accomplish?
The above seem repressing challenges, if not met with deftness by employing smart technology solutions. A feasible solution stack will be a unified B2B customer eCommerce portal that lends a rich UI, responsive, collaborative and scalable experience to all stakeholders as below –
Customers can

View informative product catalog,
Gain from better order management capability
Utilize powerful search facility
Easily access accounts and invoicing system
Improve decision making through reports and dashboards

Internal users can

Drive easy on/off-boarding
Easily manage product catalog
Easily manage promotions, rewards, and collaboration
Get valuable insights from reports and dashboards

Sellers can

Maintain SL agreements
Access and view inventory list
Predict accurate forecasts
Manage purchase orders and track shipments easily
Ensure secure data transfer through EDI/E-mail/XML
Having such a system in place ensures the below business advantages:
1.    Lower transaction charges
2.    Enhanced market efficiency
3.    Better benefits of a shorter and quicker supply chain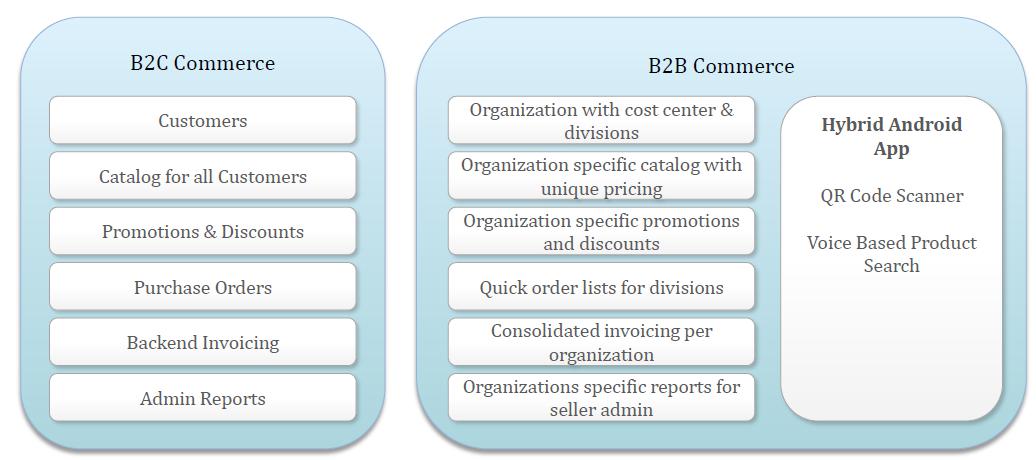 This system can be integrated with a hybrid Android app that offers device-intensive functionalities such as QR code scanner or voice enabled product search. Such a system can be set up with help of Magento, the world's leading Open Source eCommerce platform for B2B and B2C eCommerce.
Magento – Its reach & span
As per its site, Magento controls almost 1/3rd of market share as far as ecommerce platforms are concerned. It helps 120 million users to enable transactions worth $175 billion with help of 240,000 merchants worldwide. Our expertise as a Magento Silver Solutions Partner helps us to service clients across a wide range of offerings – from Consulting and Custom Development to Integration, Performance Optimization and Support services. Out of the 20+ successful Magento deployments, lets study one case in depth.
How CIGNEX helped ensure revenue traction with Magento?
Business Need
A global liquid and powder coating manufacturer had spun off from one of the largest chemical companies in the world and needed a separate IT division up and running within 18 months. This needed a total redesign of three e-Ordering geo portals built-with separate legacy technology stacks with fragmented middleware & managed by 3 different companies, in order to ensure a uniform look and feel to its ecommerce platform.
Solution Delivered
The Magento B2B ecommerce solution brought together 10,000+ products that can be viewed, accessed by 3,37,500 total users or 13,500 concurrent users for portal, and fulfilled 5,42,500 orders a month.
Benefits Accrued
1.    Truly Global User Experience – Provided a feature rich, intuitive user experience to the end user. It also provided multi-lingual and multicurrency support as well.
2.    Improved Order Management System – The order processing now takes just 10% of the time taken earlier.
3.    Scalablility – The Middleware based architecture helped make the system future-ready
4.    The Open Source Advantage - Reduced TCO with Single Platform using "Build once, deploy many times" development philosophy.
5.    Enhanced Product Catalogue – This is specific to diverse criteria including region, user and role.
These advantages resulted in cost savings worth $5 million over 3 years, doubled the customer registration volume, and quadrupled total order volume for the client.
Do connect with CIGNEX to know more about our eCommerce competencies.