RPA developers are engaged in designing, developing and implementing automations bots. A RPA developer combines the skill set of software developer, project manager and analyst. The global pandemic created a huge demand for automation technology & this opened gate for RPA developers and RPA solutions on global enterprise level.
Businesses started to implement RPA solutions and advancing the use of automation in businesses processes to continue being operational. RPA is proving to be a game changer in long run for business ecosystem.
Automation is the fastest growing industry. The growing industry has emerged creating new professions. There will be a significant increase in the demand for RPA experts to meet business automation demand and skills.
An RPA developer may be responsible for building bots or designing the ecosystem for automation technologies, depending on their level of experience. The extent to which management and architectural responsibilities are delegated will be determined by the company's objectives and the size of the RPA team.
RPA Key Players
UiPath, Blue Prism, and Automation Anywhere are three big players, according to an analysis of core abilities required by RPA developers. UiPath appears to be leading the way if job posts are any indication of demand.
Furthermore, many of the job listings appear to come from recruiting firms that hire on a contract-to-hire basis.
Top Skills for RPA Developer
Critical thinking
Communication skill
Attention to detail
Expertise in top automation tools, like UiPath, Blue Prism and Automation Anywhere
Programming languages, such as C, C++, Java, Python or .NET
Machine Learning (ML) and Artificial Intelligence (AI)
Databases knowledge, such as SQL and NoSQL
RPA Developer roles and responsibilities are
Design and develop automated business processes
Creating, testing, and monitoring automated workflows to ensure that business operations run efficiently to achieve business objectives while reducing errors
Post-implementation, monitoring and maintaining automation, and resolving any potential concerns to ensure smooth company operations
Producing process documentation in order to identify and document errors and accomplishments, as well as to improve processes in the future
Using Quality Assurance (QA) techniques to safeguard quality automation and avoid potential issues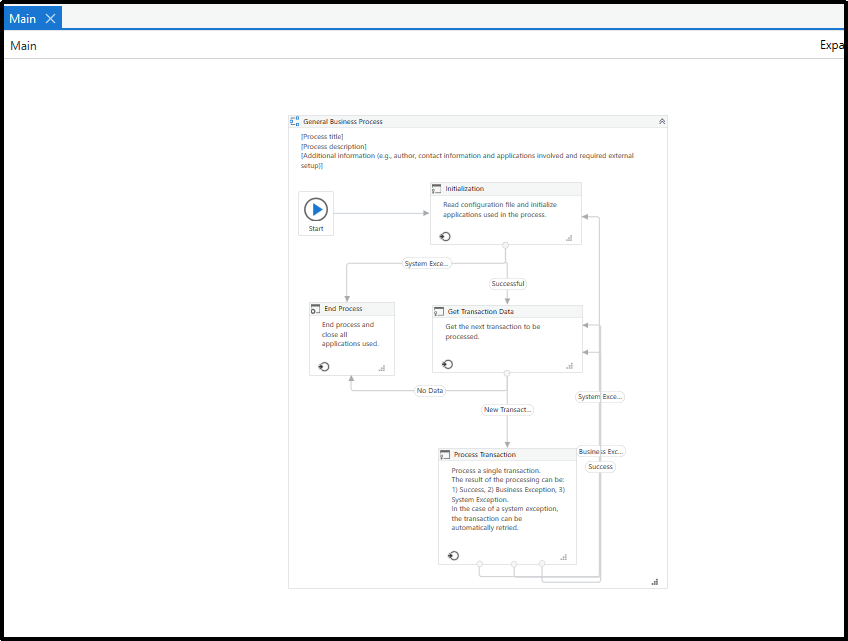 RPA bot flow control
RPA Certifications
As businesses recognise the value of automation, the RPA industry is gaining popularity and expanding wings. The number of business processes that can be automated is growing because of advancements in intelligent automation. As a result, RPA technology is becoming more popular, and RPA developers are in more demand.
RPA certification is frequently required for employment because it is a big part of the automation systems that RPA vendors provide. A certificate proves that an individual has completed training on how to use a certain RPA platform. Training and certification are offered by three major companies:
UiPath
Automation Anywhere
Blue prism
UiPath Certification
UiPath offers various certification courses. Its classes include every facet of RPA software, as well as parts of business analysis.
The UiPath Academy's certification procedure entails learning several aspects of the platform, such as UiPath studio, the orchestrator tool, data manipulation etc. These courses include broad RPA knowledge as well as fundamental RPA infrastructure experience.
UiPath Certification is divided into two categories:
UiPath Certified RPA Associate (UiRPA)
UiPath Certified Advanced RPA Developer (UiARD) 
Working with RPA platforms, creating bots, and setting up the necessary infrastructure are all covered in the courses.
Automation Anywhere Certification
Automation Anywhere divides its courses into three types of training based on role-specific skills:
Citizen Developer
Bot Developer
Business Analyst
There are three stages to the Automation Anywhere Certification process:
Essentials RPA Certification for students
Automation Anywhere Certified Advanced RPA Professional
Automation Anywhere Certified Master RPA Professional
BluePrism Certification
Blue Prism University is an RPA vendor education platform that focuses on intelligent automation. The Blue Prism platform's RPA development and infrastructure management aspects are covered in depth in the programme modules. It covers training for AI applications in RPA.
Blue Prism includes below types of certificates:
Developer
Professional Developer
Solution Designer
Technical Architect
Robotic Operating Model Architect
Installation Architect
Final Thoughts
Hiring managers agree that a candidate should have some expertise with RPA technologies that accept the low-code paradigm, such as Automation Anywhere, Blue Prism and UiPath, is beneficial to members of their automation teams. While coding abilities are an important aspect of RPA developer, applicants who are proficient with these platforms may not require considerable coding skills or knowledge of a variety of programming languages in order to complete tasks.
CIGNEX has a team of 150+ certified and skilled RPA developers who can he hired on contract based on the project requirements. It is an easy & seamless process and can be explored at https://www.cignex.com/services/hire-rpa-developers