Entertainment industry continues to grow since it has become ubiquitous. Entertainment has proliferated in our day to day life with electronic gadgets like laptop, mobile phone, MP3 players, home theatre, portable devices and more. Young generation is leveraging these media channels to have entertainment on-the-go. Even on a short flight to your destination, you can't miss browsing through the movies, music tracks and games made available on your seat. A gradual transformation can be observed in the overall need for interacting with entertainment media and channels. While exploring these dynamic changing equations of entertainment industry, In-Flight Entertainment market comes across as a major chunk holder.
Market Insights
In a recent research by Researchmoz, the global market of In-flight Entertainment is estimated to grow at a CAGR of 6.65 percent over the period 2012-2016. Screens are getting bigger, options are getting wider. This rise can largely be attributed to the increased number of requests received in aircraft.
Vendors in this market create program packages as per the requests received from the airlines. They store all entertainment content in various file formats in single repository. On receiving requests, relevant content is searched across the database, retrieved and packaged as per needs. However, retrieval with legacy content storage systems via diverse interfaces is challenging. Lack of meta-data and disintegrated content leads to a high delivery time. Entertainment content is subject to redundancy and same package cannot be reused by same airline on different route or by other airline in same route. Former content management applications did not offer this flexibility of integration, hence they were unable to capture data on most viewed/liked content. Manual intervention and errors in packaging are some key reasons for productivity leakage.
Let's look at how CIGNEX Datamatics delivered a solution which not only increased quality but speed and productivity.
What challenges did the vendor run into?
Recently, a division of leading Avionics Company, leader in passenger entertainment systems with decades of IFE experience approached CIGNEX Datamatics as it ran into the challenge of high cost of ownership and maintenance. They had a proprietary tool deployed to manage and create in-flight entertainment packages. The vendor had to manually manage supply chain process with traditional file fumbling and paper pushing from content procurement to delivery in the airline. They were incurring considerable cost on hardware, software & manpower.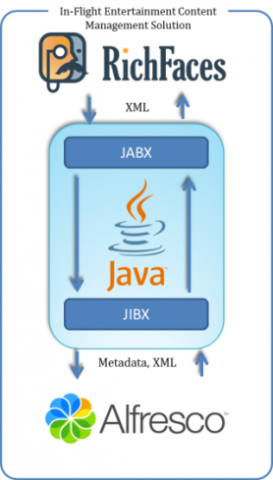 Proposed Solution Architecture
The proposed solution integrated Document Management (DM) with the legacy IFE system. Architecting the solution, Alfresco acted in the backend as a content management repository while GRAILS was deployed at front end giving a rich UI.
Alfresco acts as content layer which allows adding set of attributes for the stored content such as Name, Title and Description etc. The content uploaded in content management has the advantage of adding meta-data for easy search and retrieval. Using web services API, Alfresco interacts with In-Flight Entertainment application to fetch the content as per specs, creates XML and delivers it as catalogs to the airlines.
How we resolved the challenges?
The IFE content management solution is a highly flexible and secured solution catering over 22 airlines in 24 languages. Rich media content delivery is now streamlined to create catalog requests from scratch using workflow based meta-data management. It also gives the flexibility to import titles from XML files while catering to export media requests. This highly configurable system automates process to reduce manual intervention and reduce delivery time and improve productivity of its resources.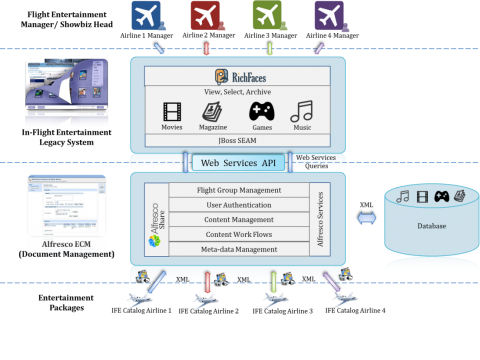 Technology has always enabled streamlined business processes. Content syndication, publishing, fulfillment, distribution and delivery are centrally managed with appropriate document management rights. With content service lifecycle, chances of committing errors have significantly gone down. There is a huge reduction in time between content procurement and delivery to the airline.
What benefits were realized?
All the assets can now be tracked. With integration of analytics, it is easy to identify most popular and on-demand content equipping the vendor with intelligence and insights on demand patterns and order level calculations. With improved content visibility, vendors are better equipped to provide customized high quality services on time.
Open source technology platforms offer the flexibility to architect solutions to address the complexities of maturing industry.
For more information on this solution, please contact info@cignex.com