Hire Experienced & Certified Drupal Developers
If you are looking to hire Drupal developers, there are things you should know to hire the right talent. The Drupal online community is one of the largest online communities of passionate developers, designers and trainers.
When you decide to hire Drupal developers, you could run into certain professionals who construct websites using the Drupal admin UI. These builders don't need you to write or modify any code. This is why you must ensure that the ideal applicant is knowledgeable in technologies like HTML, CSS, and JavaScript when hiring Drupal developers (for front-end developers).
You can also look for Drupal developers who have a strong background in the PHP or other server-side languages used for back-end development. The most optimal Drupal developer, however, is one who has a whole stack of technologies at their disposal, a full stack Drupal developer.
However, you must first evaluate the goals and requirements of the business before making any kind of hiring selection. Finding the ideal Drupal developer for your project may prove to be a challenging undertaking with which you cannot afford to make a mistake. For this reason, we have put together this guide that will help you hire a skilled Drupal developer who is ideal for your next project.
Drupal Site Builder
If you're looking to build something that do not required expertise and not require something appropriately professional that won't necessary comply with every custom piece of functionality, a Drupal site builder might be the best place to start. Therefore, a site builder may not be able to utilize PHP in the same manner as a Drupal expert, but can comprehend site frameworks and effectively operate within the core and contributing code of the most recent Drupal versions.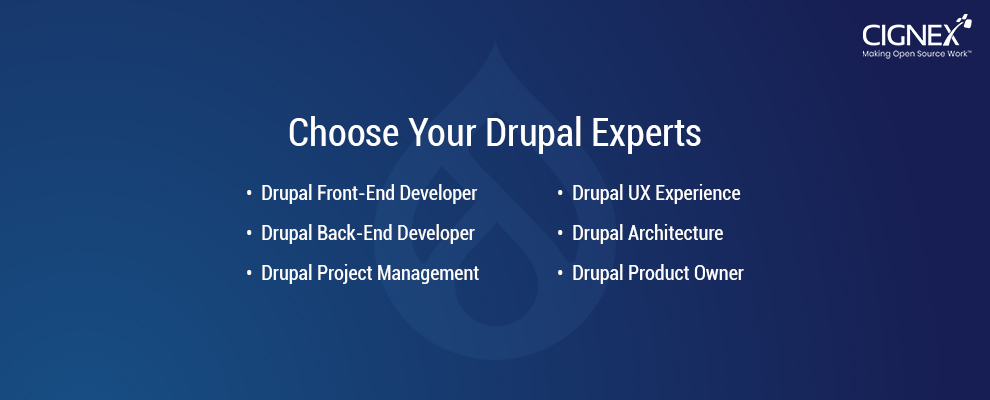 Drupal Front-End Developer
The front-end Drupal developer will work to optimize your Drupal platform while concentrating largely on the CX. Back-end developers work with coding, whereas front-end developers are more focused on providing rich themes for better experience. Advanced front-end developers can create new themes or modify current themes to give your website the best potential visual presentation.
The position calls for a solid grasp of fundamental architecture as well as best practices for website creation and theme development. Being a consistent contributor to the Drupal community makes it easier to keep up with new releases and design trends. Even while it doesn't require as many programming languages as back-end development, those who want to pursue careers in it need to be familiar with CSS, JS/JQuery, HTML, and fundamental PHP.
Drupal Back-End Developer
Back-end Drupal developers collaborate with and contribute to the development of your site's foundation. They are skilled programmers who are also familiar with deployment, design, and development. They comprehend fundamental site architecture and best practices. They have the ability to develop and run additional modules. They can also modify and add to already existing modules. You should look for a Drupal back-end developer who has experience as well as knowledge of HTML, CSS, JS/JQuery, and Object-Oriented PHP.
Drupal Project Management
Another area in the Drupal professional community that places a premium on the end user's experience is project management. A good project manager will be knowledgeable in integrating existing and emerging technologies with the Drupal CMS. They will be genuinely curious in new communication platforms and be able to use reporting tools to monitor the effectiveness of content.
UX Experience
UX or User Experience is a design aspect that closely resembles what a real website visitor might experience. Everyone has some experience with end-user design because they base their decision on whether to return to a website on how well their visit went. For example did it take too long for the page to load? Is the site navigation user friendly?
Are there too many pop-ups effecting the site speed? There being a problem with something on a tablet or smartphone? A Drupal design/UX expert tackle problems from the user's point of view while having sufficient back-end knowledge to understand what's causing a bad experience and how to remedy it.
Drupal Architecture
In accordance with client requirements, Drupal architect design and create system architectures, specify critical capabilities and performance requirements, and pinpoint design and technological maturity restrictions of the system.
A Drupal architect is skilled in PHP, SQL, JQuery, and CSS. In addition to having familiarity with other tools like Varnish, GeoIP, Commerce, Ubercart, Solr, and CRM connection, they should be knowledgeable about all facets of web development.
Drupal Product Owner
A product owner (PO), has vast knowledge in many industrial fields, develops the project's specifications. To prioritize the backlogs, they collaborate closely with the project managers. The following are qualities a Drupal product owner must possess:
To assess the project's viability or future, they should be able to see how various components fit together and function. A robust foundation will be created for a Drupal project by a product owner with a clear vision and dedication.
They are also referred to as the project coordinators, and they must be outstanding communicators to get their point across to the various application development teams.
Excellent reporting and record-keeping skills to assess the project's current state.
Product owners should be able to steer projects toward successful completion thanks to their superior decision-making abilities and ability to manage business input.
Final Thoughts
Being one of the top CMS for businesses of all sizes, Drupal has caused a significant paradigm change. A variety of positions with in-depth platform knowledge and expertise power a successful Drupal website.
The above guidelines will help you to hire Drupal developer and also provide you with better understanding of the many Drupal development aspects. You should keep in mind that despite some job and skill overlap, there are specific tasks inside a Drupal project that need for particular care. It's time to start considering the essential talents and credentials required to accomplish your objectives after you've established the size and scope of your project.