Santa Clara: Liferay, Inc., the world's leading Open Source portal provider, presented CIGNEX, their annual 'Community Excellence' award. The award was presented at the Liferay Symposium North America in San Francisco, CA on October 21, 2013.
CIGNEX, the leading provider of Enterprise Open Source Solutions was presented this award for the third consecutive year. CIGNEX' continued commitment to the Liferay community through contributions to forums, blogs, webinars, seminars and other initiatives on thought leadership have been key to the recognition. Over the last few years, CIGNEX has contributed over 4000 community posts and authored 7 books on Liferay.
"We congratulate CIGNEX on the award and are happy to recognize their contributions towards the Open Source community. Their expertise adds tremendous value to the entire Liferay community ecosystem," said James Falkner, Community Manager of Liferay, Inc.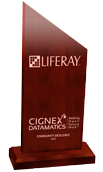 Amit Babaria, President - Americas and Co-Founder, CIGNEX commented, "It's an honor to win the Community Excellence award for three consecutive years. It is a testimony to our commitment to the Open Source community through contributions across all community channels. Our 450+ employees are the deserving recipients of this award, given their efforts to share their experiences with the Liferay community, driving further adoption of Liferay Portal Platform."
About Liferay (www.liferay.com)
Liferay, Inc. is a leading provider of enterprise Open Source portal and collaboration software products, servicing Fortune 500 companies worldwide. Clients include Allianz, BASF, Cisco Systems, Lufthansa Flight Training, Société Générale, Rolex SA, Siemens AG, The French Ministry of Defense, and the United Nations. Liferay offers Enterprise Edition subscriptions, which provide access to emergency fixes, software updates, 24/7 support SLAs, and subscription-only features. Liferay also offers professional services and training to ensure successful deployments for its customers.
Liferay, Liferay Portal, and the Liferay logo are trademarks or registered trademarks of Liferay, Inc., in the United States and other countries.
About CIGNEX (www.cignex.com)
CIGNEX (subsidiary of Datamatics Global Services Ltd.) is the global leader in Open Source enterprise solutions - Portals, Content and Big Data Analytics. Since 2000, CIGNEX has focused on Making Open Source Work® for the enterprise using industry-standard open platforms and integrating with existing systems to improve client's profitability. CIGNEX is headquartered in Santa Clara, USA, and has offices in Michigan, Massachusetts, New Jersey, United Kingdom, Germany, Switzerland, Bosnia, India, Singapore and Australia.
###
Contact:
Amit Babaria – President – Americas & Co-Founder
CIGNEX
amit(at)cignex(dot)com
Phone: 1-408-886-9932