In today's world, businesses aspire to have highly personalized services and want to give similar experience to their customers. The recurring business requirements which need customized solutions want to acclimatize quickly and efficiently to constantly evolving customer demands. To meet such requirements, industries around the world are looking for software solutions which meet the expectations of businesses in an efficient manner. The need of the hour is to have an integrated solution which can weave and display the entire enterprise digital interfaces on a single platform. Liferay digital experience Platform and Development Services are designed to meet all the transformational requirements of any business related to customer experience, across web and connected devices.
To execute, deliver and sustain the Liferay services and solutions, the most important assets are experienced and certified Liferay developers and experts. A right team of dedicated Liferay professionals can make a huge impact in delivering the feature rich solutions which can help businesses to have edge over their competitors. In this blog we will discuss about the impact which good Liferay developers can make to an organization and processes to hire them.
Let's discuss the services and solutions which Liferay professionals can deliver:
Liferay Consulting: Liferay consulting services begins with educating the enterprises about capabilities of Liferay DXP. In second phase the gap analysis and requirement identification of the enterprise is done. This includes consultation on developing authentic applications, portal implementation, integration with custom applications and legacy environment, migration from other portals to Liferay portals and consultation on enterprise hardware and software infrastructure as per business requirement. And the final phase of consulting lifecycle incorporates implementing PoC and architectural guidance by evaluating existing structure.
Liferay DXP Upgrade and Migration: Liferay experts also help enterprises to upgrade and migrate to maintain business continuity. With latest version, Liferay DXP 7.4 allows businesses to optimize digital experience using data driven insights. For a successful migration or upgrade, it is imperative that the right & experienced developers are working on the project.
Liferay Performance Tuning:  Liferay professionals not only provides consulting, development and migration services on Liferay platform, but they also provides a very important service which is performance tuning. Before launch of any service, Liferay experts do mandatory pre-requisite checks on performance of the portal. The performance tuning is done during design phase or before launch of the portal and experts need to onshore or offshore performance tuning services.
Liferay Support and Maintenance:  To provide support and maintenance services on Liferay applications, professionals must have expertise to provide end to end services on troubleshooting and bug fixing, data migration, application enhancement, and product EOL services.
Liferay Cloud Deployment:  Cloud deployment of Liferay services are one of the prime services, which require deep knowledge in deploying, managing and scaling projects in the cloud. Liferay cloud deployment experts can help with launching a secure website with reliable PaaS solution that simplifies infrastructure management leading to faster time to market.
Adopting Liferay services can really make an impact to a business. These services are Open Source, can be easily integrated with any technologies and server, provide better business agility, secure, with reduced total cost of ownership. And well trained and dedicated Liferay consultants can only leverage the true potential of these services.
The major confusion of any enterprise lies in hiring a great Liferay expert, which will suit their business requirements for a longer time. That's why, it's very important to analyze skillset of the professionals diligently.  
Related Blog: Liferay DXP 7.4 - An Upgrade For Enhanced Digital Experience
Liferay developers must possess following expertise and enterprise must look for these expertise in Liferay developers:
Skilled in Java, Core Java, and web services
Expertise in Web Technologies and Servers:  Deep understanding and knowledge of HTML, CSS and JavaScript
Skillset of Custom portal development
Understanding of portal framework
Portal design, Support, and Maintenance
Custom Liferay template design, responsive design and themes, Content management system design.
Knowledge of  Liferay Search and Document Management.
Experience in developing website, intranet, mobile apps.
Experience in Liferay Migration services, re-design, and data migration.
With all the above mentioned expertise and skillset, companies must see the hiring model of staffing service providers.
Hiring Model
Looking into the hiring model of Liferay consultants' provider is very important. This can help businesses to identify their specific requirements based on their project. Hiring model can be of four types:
Extended Team: In this arrangement, Liferay professionals will be part of the team of the enterprise. They will get the knowhow of industry best practices and technological innovations from the core team members of the organization.
Managed Team: A dedicated team, which will work on specific project needs and ensure complete visibility and control in the progress of the project.  This team can be approached for onsite visit as and when required.
Onsite Team: With deep understanding of business and process of the enterprise, onsite team can fill in the gap of Liferay professionals at company's location.
Product Team: To improve faster time to market of any product and speedup the development process, this hiring model is most suitable. Product team is extension of the enterprise team working on specific product with defined deadline.
A well-defined and wisely chosen hiring model can help the companies to meet their goals effectively.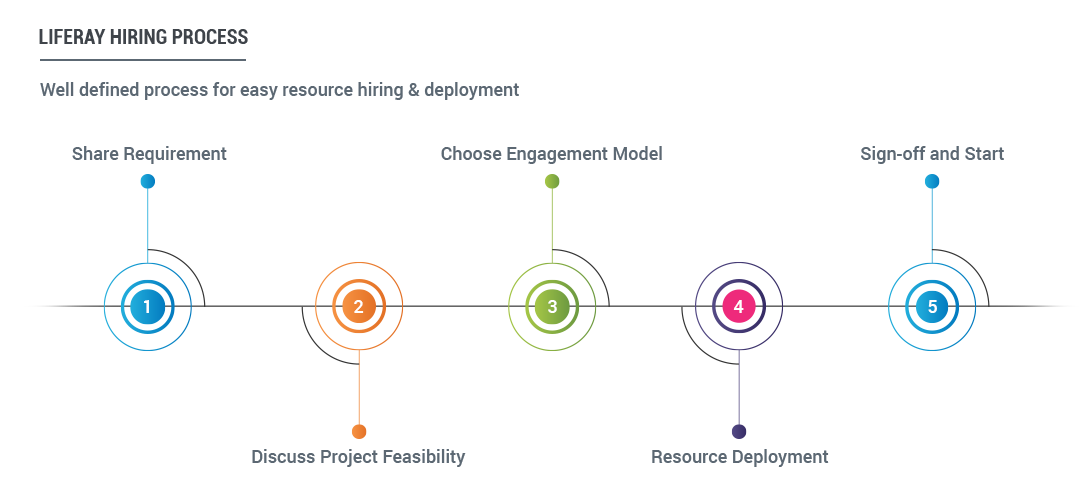 Final Thoughts
Liferay is an amazing platform which can provide seamless digital experience to enterprise projects, provided they must have a strong team of dedicated Liferay professionals, which can meet up to their expectations in delivering new capabilities to user with faster time to market. This blog will help enterprises to explore their requirement of services from Liferay Staffing providers and help them identify a proper hiring model and channel for their ongoing and upcoming projects.