When it comes to a successful project, selecting and recruiting a dependable development team that provides workflow benefits rather than challenges and reduced costs, it is half the battle won. Especially when it comes to specialized knowledge, such as Drupal development. Good specialists can advise you in the direction of the most fruitful yet cost-effective development path, clarify technical details for other participants, provide access to specialized equipment, and provide other benefits.
Furthermore, if you don't take the time to carefully select a Drupal development company from the start, moving teams throughout the project's continuing workflow will result in costly additional costs and other complications. If you don't want this to happen, make sure you take the time to research and assess the pool of potential employers.
Partnering with the right Drupal development company plays an essential role in a successful project. It becomes extremely important to partner with a company that has experience in providing customized Drupal development services for various industries.
Partnering with a less experienced web development company can result in security failure and data compromise.  The two most concerning symptoms are a growing backlog of bugs and a failure to keep up with security patches. Both of these factors contribute to the fragility of the system. It's understandable to concentrate on new features and enhancements, but you'll end up constructing those new features on a shaky foundation.
A support and maintenance partner can relieve you of that load. They may keep your foundation in good shape while your team works on adding new features.
An experienced support partner can help to improve performance of your development team if you lack institutional understanding of the Drupal community. For a variety of reasons, experienced developers and managers may quit. Your Drupal site's entire development team may leave to pursue other opportunities.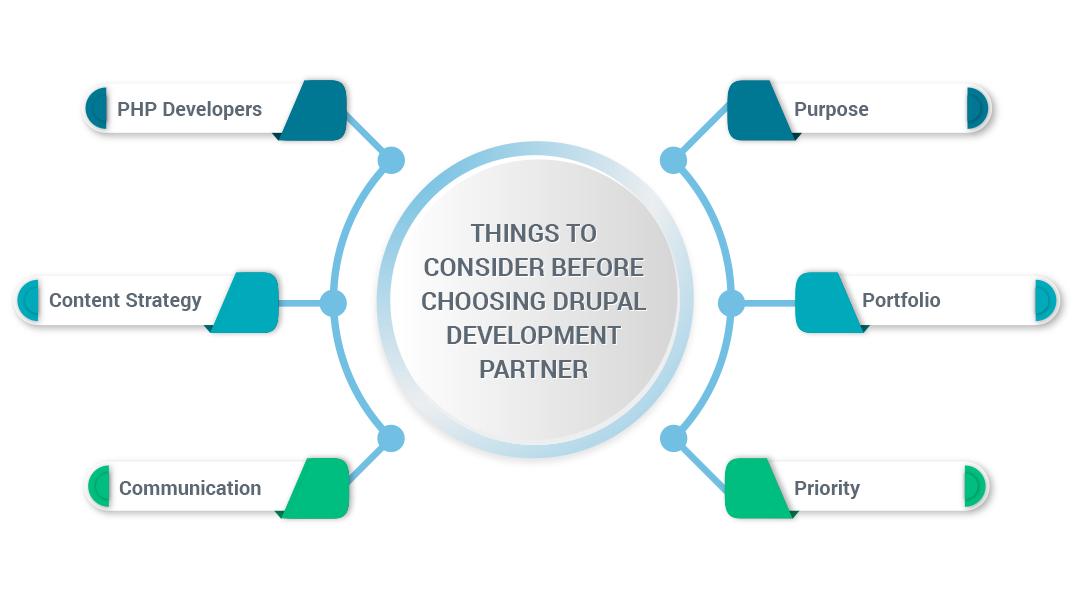 When it comes to finding a possible Drupal development partner, there are a few things to keep in mind -
Purpose - Make sure you know what you want. It is critical to consider the project's scope. Prospective partners must understand exactly what you want, what characteristics you want, where you're beginning from, and measure performance. One of the two key ingredients in the secret recipe for a Successful Drupal Site development is the Request for Proposal (RFP). Before taking any efforts to engage a development firm, meet with your team and work together for comprehensive RFP.

Portfolio - The first thing you should look into is a possible partner's client list and Drupal implementation history. Some agencies specialize on a single industry, while others work on a variety of projects.

Ask questions about projects you're interested in. Check to see if any of the tasks are similar to yours. The agency should go over each one in depth, answer all of your questions, and highlight the obstacles they experienced and how they overcame them. They should explain how these issues and solutions relate to your project. If you like a certain aspect or function of a website, inquire about how it was created. Even if they didn't build it, experts may dissect solutions and explain how they were achieved in a clear and concise manner.

An agency should feel at ease addressing inquiries regarding projects in their portfolio and be able to critique solutions on websites they did not create. It assures that they will have relevant discussions with you about your Drupal development requirement.

Priority - Because user experience (UX) is an essential component for any website, the finest development firms prioritize it. The user experience (UX) is critical for satisfying website users, meeting their demands, and keeping them coming back. Examine user reviews for websites built by your potential partner, and inquire about the development firm's efforts to provide the greatest possible user experience.

PHP Developers - Object-oriented programming has become increasingly popular in the development world, but it is not a skill set that every developer possesses. Inquire about PHP experience, particularly object-oriented PHP experience, while interviewing developers or agencies. The latest version Drupal 9 supports object orientation programming.

Content Strategy - Regardless of the CMS used, content planning is critical for all websites. You'll need to work with a Drupal development company that can help you manage your site content and create information architecture in Drupal that represents the goals of your visitors. Working with an expert strategist who can help you grasp the big picture before you begin adding content to Drupal will pay off in the long run.

Communication - Soft skills are incredibly vital when cooperating on a project, in addition to technical ability and a fantastic portfolio. This is critical for a variety of client-related duties, including collaborating with the client team to fulfil deadlines, testing functionality, and judging web design.
Choose a Drupal Development Company Wisely
Websites are significantly more than just a reflection of a company's online presence. Thousands of companies offer a large portion of their services online. Websites are increasingly venues where consumers can get answers to their questions and perform tasks.
Finding the correct Drupal development company the first time is critical. CIGNEX extensive Drupal development services enable organizations to create a user-friendly web presence, meet corporate objectives, and exceed their clients' demands and expectations. Contact us for your next Drupal project.