Today, automation has optimized a wide range of industries. Automation has shaped the way we live and accomplish our daily duties, as seen by its growing popularity and applications in various industries. Robotic Process Automation is one sophisticated and advanced technology that is revolutionizing industries.
By automating repetitive procedures, the system is aimed to streamline manual tasks and increase productivity. Automation improves the efficiency and accuracy of your organisation by effortlessly handling management tasks.
Despite the fact that RPA is a popular technology, many organizations are yet to explore the benefits of implementing the RPA tools it. They aren't even aware of the advantages of automation and how it can assist their company evolve on various levels.
Simply described, robotic process automation is a centralised system in which a group of robots complete a series of complex repetitive tasks and perform a wide range of defined actions. Few of the popular automation tools are UiPath, Blue Prism and Automation Anywhere.
Any business before implementing the new RPA technology should consider hiring a RPA consultant to learn and better understand the technology. Experienced RPA consulting company can assist in determining which RPA solutions are most cost-effective and accurate for your business, as well as accelerate the RPA implementation process.
Most significantly, an RPA consultant can assess your business operations and recommend the right RPA tool to implement for seamless business operations. How do you go about finding the right RPA consultant with enterprise level experience? Is it worth to hire an individual expert or a team of certified RPA consultants who specialise in automation and can offer the best advice?
In this blog post, we'll go over why you should hire RPA consultant as well as how to choose the ideal RPA consulting services for your company.
Interesting Read - BENEFITS OF ADOPTING UIPATH FOR ROBOTICS PROCESS AUTOMATION (RPA) IMPLEMENTATION
RPA Consultants
RPA technology work better for those who collaborate with right RPA partner. A less experienced RPA consultant result in 30-50% of RPA projects to fail. One of the reasons why corporations have lost faith in RPA technology is because of this. It's not the technology that goes wrong; it's the people you work with.
 Not every firm has an in-house consulting team that can advise on the right RPA tools to implement, which RPA vendor to work with. If you own a start-up or SMB, it might be challenging to find the right RPA consultant that charges a fair fee and provides outstanding services.
In the business world, RPA tools have become an important part of business operations. This current technology has a significant impact on corporate productivity, efficiency and customer satisfaction.
There are no doubt organisations that hire RPA consulting company outperform those that used their own in-house team. You have the option of totally outsourcing the task to a third party or combining the external and internal teams. Outsourcing automation projects to the wrong RPA consultant could be disastrous for your business, leaving you with limited options for automation.
Robotic Process Automation consulting services, also known as RPA implementation services, are designed to streamline the automation process. An experienced and skilled RPA consultant can provide the following services -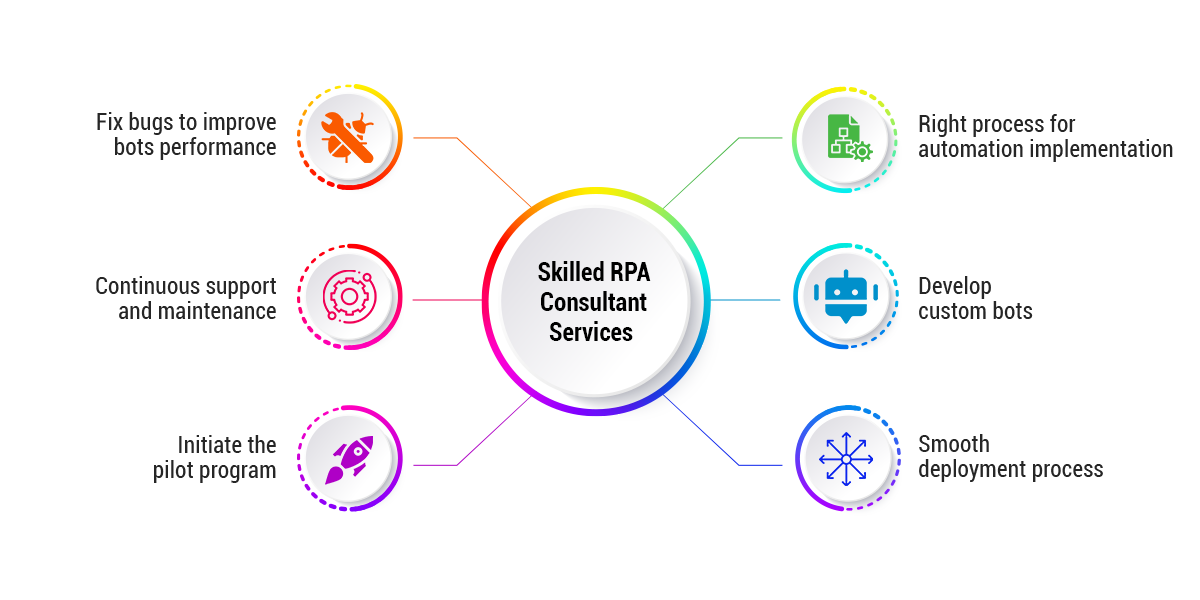 To achieve better result you should outsource the RPA automation process to a consulting company. RPA consultants are capable of executing the task professionally as they have prior experience in this field. They can get the job done in quick turnaround time. Not every business has an in-house staff of IT specialists who are experts in RPA development.
One of the primary responsibilities of an RPA consultant is to create high-quality automation solutions, particularly bots that seamlessly interact with third party apps and tools. The consultants will also evaluate your existing automation process and recommend ways to automate using RPA bots.
Furthermore, the ideal RPA consulting firm will provide you with continuing RPA support and maintenance services to ensure that your business operations are efficient and productive. If you run into any problems with the RPA implementation, you can contact the RPA consultant for assistance. The consultant will implement solutions to help you solve challenges and improve management processes.
How to Select the Right RPA Consultant for Your Business Operations
After you've decided to hire an RPA consultant, the next step is to explore the available vendors and pick the most experienced, professional, and deserved RPA consultant for your business operations.
Expert Technical and Soft Skills
Run a background check on the preferred RPA consultant to learn about their technical knowledge and after full assessment, partner with an expert who has both technical and soft capabilities. Soft skills are just as crucial as technical knowledge in this situation. To complete the project on time, you may need to communicate with the RPA consultants frequently. Before selecting and deploying automation solutions, the expert RPA consultant will understand your strategic goals and assess your business operations. They understand that implementing the wrong RPA tools might cost your company thousands of dollars in the long run. They make good use of their resources.
Availability
The RPA development and consulting services provide better results when executed onsite. The RPA expert must be available to collaborate with your team. Virtual meetings may appear to be an appealing and convenient alternative for businesses, but it's critical that you deal with a consultant that is prepared for face-to-face conversations.
Certifications
Robotic Process Automation has grown in popularity in the past years and been implemented to accelerate digital transformation and providing you with a wide range of possibilities. Partner with a RPA consultant with several years of expertise in the field instead of selecting a beginner who has just started.
You'll need someone with programming and corporate application development knowledge, but that won't be adequate on its own. You should look for a firm that has a proven track record in RPA consulting services. The RPA expert will begin by assessing your business requirements and operations.
Look for a RPA company with sufficient experience and qualifications to comprehend your industry. The last thing you want from an RPA consulting company is for them to end up costing you thousands of dollars owing to incorrect assumptions.
Experience
Partner with an RPA consultant with a proven track record in the field. It might not serve justice to hire consulting services on the basis of a few happy clients. It doesn't indicate it can help you meet your goals. You should hire a company with experience in automation field if you want the organisation to deliver the greatest outcomes. Hire a RPA consultant that has completed similar projects or has previously partnered with companies in the same industry. Before making a judgement, thoroughly review their portfolio.
Budget
Consider hiring a RPA consulting company that is ready to accept a cost structure that is transparent. Some businesses promise the best outcomes at a fair price, implying that they will produce a high-quality product within a reasonable timeframe.
Conclusion
The above shared pointers are applicable to practically all sorts of enterprises that aim to use RPA solutions, you should always think about your audience and industry before making any decisions. Before RPA implementation and development, always hire an RPA consultant who is willing to learn more about your sector.
CIGNEX is a qualified and experienced RPA consultant with decade of experience. Outsource your RPA requirements to us and we will help you with digital transformation. We have 150+ RPA certifications and 60+ certified resources. Contact us for more information.