RPA Growth in Different Industries
RPA can be implemented to execute mundane tasks in the same way that humans do. It can automate tedious and exhausting tasks previously done by people in almost every industry and across business units - retail, finance, HR, IT and marketing.
RPA works well for jobs that involve large volume transactions, are repetitive, rely on structured digital data, are prone to error when performed by humans, and are time-sensitive. In many factories, warehouses, and stores, a physical robot is already a common co-worker. But, in the fashion industry, automation might have a bigger impact.
Let us understand the benefits of RPA and use cases in the fashion industry -
RPA can help automate the basic tasks such as data analytics and inventory management. RPA caters to most of the finance processes as well.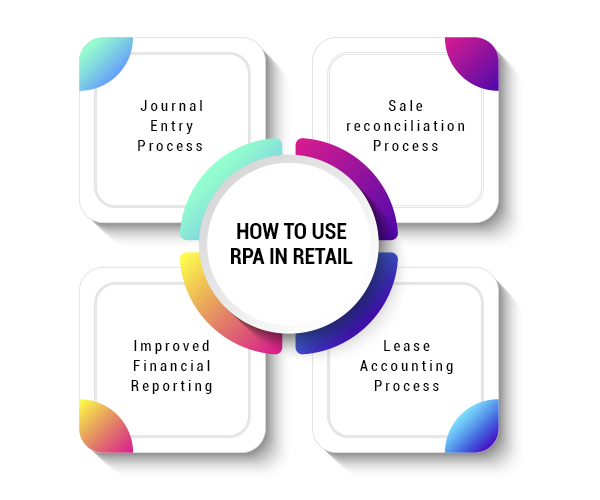 Automating Financial Activities in Retail -
RPA can automate sales reconciliation process and stream line your entire sales process by helping in reducing the time to process files per day (less than 2 mins per file) &decreasing human efforts.
RPA can help to automate lease accounting process making your monthly closer easier, faster and secure. With RPA, the document processing time can be reduced from 60 hours to 3 hours. Companies can manage and minimize financial risks through this digital transformation.
Modern digital solutions can help automate journal entry process with RPA tools and can reduce manual and time consuming tasks for creating journal entries. Automation also eliminates the risk involved in manual journal entry process and reduces time to process single file after automation. With RPA, the work of 20 FTEs can be executed efficiently by 1 Bot.
Benefits of RPA in Retail Industry
Performance

Bots are 5x times faster and can help in improving processes and enhance manufacturing quality with error-free operations.

Compliance

RPA keeps track of bot performance and retains the data for evaluating regulatory and governance compliance. It also reduces human interaction with sensitive information, lowering the risk of fraud.

Cost

Cost-cutting involving administrative expenditures are greatly lowered and the demand for back-office employees is reduced by 30-60% when repetitive manual operations are automated.

Employee productivity

Employees can be more productive and focus on higher-value work by automating repetitive, manual work.

Digital Transformation

As a part of your Digital transformation initiative, RPA can help to automate the processes without making changes to the legacy system and thus saving cost which helps you move forward on your RPA journey.
Final Thoughts
Businesses are predicted to save $5 trillion to $7 trillion by 2025 thanks to RPA, and when it comes to a developing industry like fashion, implementing RPA becomes even more vital.
In the fashion industry, RPA can assist with complex organizational duties such as compliance, finance and audit regulation. Employees can devote more time to sophisticated and strategic jobs when these tasks are automated.
Without a question, RPA is a brilliant answer to frequent problems in traditional workplaces. Furthermore, the possibility it gives to enterprises is priceless. Businesses will profit if it is implemented appropriately.
CIGNEX, as your RPA implementation partner, will assist you in developing a phased implementation strategy after we've assessed your company's infrastructure and determined the most viable processes to automate based on your custom requirements and goals.
CIGNEX provides optimized engagement methodology, collaborates closely with clients business and IT teams to solve enterprise-specific problems. To ensure that our client's investments are always improving, our subject matter specialists cover strategy & architecture, implementation, performance optimization, integration, enhancements, user training, post-implementation support, and managed services.
Contact us today to learn about the latest developments and to map out your journey to become a smart company powered by RPA.